Calverley CE School plans for a cross-curricular topic approach (excluding English and Maths which will be taught separately, although may be linked to the theme of the topic).
Our aim is to ensure that the wider curriculum enables children to experience a broad range of subjects which develops their subject knowledge and skills in a fun, engaging and stimulating way. We will give children memorable experiences and build upon their interests and aspirations. 
Calverley CE Primary school have thoroughly researched the possibilities to enhance the 'wider curriculum'. The SLT, Governors, Teaching Staff and other stakeholders have been consulted. Actions undertaken: reviewed Calverley CEs current provision, visited schools with an established 'outstanding curriculum', carried out research regarding curriculum development and change, subject leaders given time to audit the current provision in their subject.
Each topic will have a topic 'driver' which will be from the History, Science or Geography subjects and will have a enquiry based approach.
The outcomes for children's content learning have also been identified and progression of these skills has been planned for. The children revisit and develop skills and knowledge through the year and year on year as a result of a planned, 'spiralling skills' curriculum.
Further to these curriculum outcomes (Age Related Expectations), engagement in learning outcomes were also developed so that they are at the core of the new, wider curriculum as well. 
Outcomes for progress in learning (Age Related Expectations)… and progress as learners
These outcomes are our measures for assessment so that the children and staff can identify their progress in learning (using Age Related Expectations) and progress as learners (using the engagement in learning outcomes).
Both these outcomes allow for the identification and planning of a progressive curriculum that is appropriately pitched for each year group.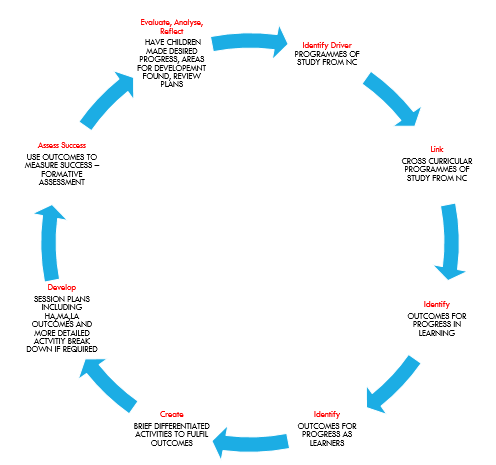 Our outstanding curriculum:
1. is underpinned by aims, values and purpose
2. develops the whole person - knowledge, skills, understanding and attitudes
3. is broad, balanced and has clear progression in subject knowledge and skills
4. is filled with rich first-hand purposeful experiences
5. is flexible and responsive to individual needs and interests
6. embeds the principle of sustainability
7. has an eye on the future and the needs of future citizens
8. encourages the use of environments and expertise beyond the classroom
9.makes meaningful links between areas of knowledge across the curriculum
10. has a local, national and international dimension
Any curriculum areas that do not meaningfully fit with the topic plan are taught separately in stand-alone sessions.
The principles, aims and Long Term Plans for each curriculum area can be viewed by clicking on each curriculum subject.